Friday, June 24, 2005
sajc band
Contradicting this may be....but i miss sajcband...i miss everything about sajcband...i miss the people i miss the music i miss the fun i miss the joy i miss the sports for life I miss the quarrels i miss getting screwed by the band teachers i miss band camps I miss my tuba i miss the stupid conductor :P jie! :) i miss the discussions I miss the silly sala i miss the noisy drumset players i miss the computer games in the band room I miss the mahjong games we had i miss the bitch club that was set up by kok n shan i miss the cockroach i miss the spring cleaning i miss the movies we had I miss the very coold aircon but i also miss the before 3pm cannot switch on aircon-heat i miss the band fellowship i miss worship practise i miss the seniors i miss the tears i miss the trombone.................................on top of all that i still miss the people that make up the sajccb the most...
at
9:35 PM
0 comments

---
Wednesday, June 22, 2005
SAJCBAND
eh peeps just wanna wish you all good luck. Cause wad goes around comes around. So I will get good luck also. Ya so good luck for your exams and all. Ok if you all are free on 24th June, I have a deal man. Got a gig coming up at Orchard. Anyway its half confirmed and this time I will confirm the date and time definitely. So NOONE will be disappointed. Ok. Sorry about e last time haha. Anyway. Ya, good luck for the exams and. Ya thats all..
TOHTOH
at
9:14 PM
0 comments

---
Tuesday, June 21, 2005
jie is so hot!!!!!

at
11:35 PM
0 comments

---
jie just got rapped by jason kok and marcus. poor boy.

at
11:32 PM
0 comments

---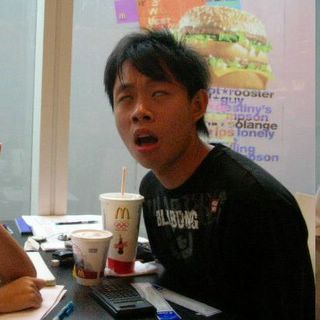 deon the supernatural

at
11:29 PM
0 comments

---
HAppy Hols!
Ok, the last few posts of ugly people by Huimin, our "few-more-days" birthday girl, has been rather .. I dont know what to say. But im sure we all have our opinions about them. Anyway, hope everyone is studying hard at home! Yeap. OK! Lets be frank la. Everyone is slacking at home and stuff. YOu will study for probably a gruelling 15 mins, then make your way to the toilet or kitchen or music instrument or tv or bed or wad have you and spent 30mins there. So instead of spending 2 times of whatever time you are studying at home. Why not join me to study in school/fast food joints/ exotic places.
Yes! Entry forms for studying with Deon are now readily avaliable. Just drop him a msg. Wadever man.
Anyway bottom line is.
Anyone wanna study together tml?
tohtoh
at
10:44 PM
0 comments

---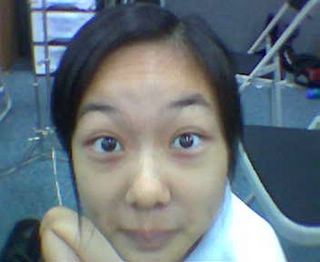 SORRRRRRRRRRRRRRY HUISHAN!!!!!!!!!
By Min
at
12:23 AM
0 comments

---
jie the elephant elf
By Min
at
12:22 AM
0 comments

---
freaks.
By Min
at
12:22 AM
0 comments

---
Sunday, June 19, 2005
sajc band
hahaha tmr band pract! tmr band pract! TMR BAND PRACT!!! lol...
at
9:01 PM
0 comments

---
Saturday, June 18, 2005
birthday...
happie birthday to YOU
happie birthday to YOU
happie birthday to JASON
happie birthday to YOU


eh... one yr older. dont be such a kid. u are already an uncle. behave like one okie!!!! smiles. peaceeeeeeeee. have fun. take care. this should be my 3rd time wishing u. hahaha.


::ying*wen::

at
11:54 PM
0 comments

---
Monday, June 13, 2005
since everyone is so bored, here's a riddle someone told me a few days ago.
whats goes in hard, hard
comes out soft, soft
in out in out
juice come out.
guess!
at
9:04 PM
0 comments

---
Saturday, June 11, 2005
what happened?
wat happened to the blog? y isn't anybody updating? the brisbane ppl muz be enjoying themselves now. we sent them off on tues and i have to say, i kinda regretted pulling out from the trip. but then again, its also a good thing that i pulled out cos if i didn't, my block test results would confirmed be like shit.
anyway, the non-brisbane ppl went down to sajc on wed and fri to have self-pracs on persis. oh, btw, the big big tv in the band room has disappeared. really disappeared. i'm not kidding. and the moment anybody stepped in to the band room lim jie, or rather, jim lie, will be like," its all ur fault! no tv at home then take band room's 1 rite?" haha guess there won't be any viewing of csi in the band room anymore.
ok, enough about the tv. self-prac was supposed to be from 9-12. but by 10 plus all of us were so bored of self-prac on persis that we had "full band" on it. without any clarinetists and oboeists and saxophonists and conductor. haha after that, we juz played some songs on the computer and yf started dancing ballet. and acted out the mtv to f4's meteor rain. and deon had a rock performance. ya, they were THAT bored.
after that, we went to hbf (where else?) for lunch and the place was full of teenage girls. apparently, energy is gonna have a performance at 7pm. ppl were aready queueing up at 8am la. crazy. some girls were even sitting under the hot sun cos the indoor queue was full. anyway, we went to eat lunch at the food court. jie went to help andre buy food back and guess wat? he left it on the table in the food court. luckily i saw andre's food sitting on the table and went after jie with it. tsk. so blur. muz be cos of the collision with the lamp post. haha ok, shall end here. ppl pls blog ok? the blog has become so boring la.
enru
at
3:00 PM
0 comments

---
sajc band
Hey people the blog die already arh. Wtf man wtf. Anyway, since no one wants to blog, let moi blog.
Ok, we have 2 soccer matches coming up. You people decide whether you wanna play or not.
1) Tennis guys, 7 vs 7, width of the field.
2) Training match with soccer J1s, just a training match, but requested only SAJC ppl from the coach.
Ok, while the people are enjoying themselves in Aussy, lets study hard.
BTW, my gig on 13th june has been switched to 14th june at Fort Canning. Evening. Performing songs like Silther, Walk On, originals etc. All guitar enthu people are encouraged to come, theres this very good guitarist that will be in the band. The band is a side project band that was set up just for this gig btw. So you could contact me if you wanna come la.
Hows persis coming along. Anyone wanna do mass studying one day? Like we goto school then study for 3 hours and break then study 3 more hours then go for games and continue studying a little more then go for dinner?
Deon.
at
11:34 AM
0 comments

---