Monday, April 28, 2008
at
10:42 PM
0 comments

---
at
9:51 PM
0 comments

---
ATTENTION J1 GIRLSSSSSS.
it is traditional for the j1/j2 batches to have
captain's ball matches,
so please organise your team j1s!
10 people playing at any one time,
including captain.
but of course they will be sub-ing allowed.
most likely, we will play on sunday,
after the band camp.
note: this match is only for girls!
j2s!
dont worry, our team captain,
SIJIA,
will be organising everything. hahahah.
the captain says, save batch jersey for sunday =D
be prepared to stay and play!
=)))))))))
`syarah
at
9:36 PM
0 comments

---
at
5:44 PM
0 comments

---
Sunday, April 27, 2008
at
11:40 PM
0 comments

---
Time for another weekly random horn section photo! err plus one other. haha
at
11:31 PM
0 comments

---
time to keep fit! haha
hey everyone! as you all know there has been an informal gathering of people who wanna just exercise and keep fit every saturday before band starts. so now, i'm gonna make it OFFICIAL. thus on behalf of the fun department of the band (HAHAH!), I'M HERE TO MAKE AN OFFICIAL ANNOUNCEMNT! activities include running, basketball or self-training for your dreaded napfa test! so i wanna encourage as many people as pssible to come and join this gathering every saturday as a means to bond and keep fit! so everyone is welcome both j1s and j2s. =D so see yall soon!
tau :)
at
10:43 PM
0 comments

---
ADMIRATION
Honestly speaking, i am proud to tell people i am in SAJC band. because the seniors, they have done such a great job in lifting the band's name up and up. I just want to say, to point out that the j2s, especially those in my section, you are aspiration, my motivation to work even harder. I've never loved band, not in my secondary school cos i hated marching. But after i came here, it was tough to catch up, to stay positive, but the fruits of it are my love for music, for band.
I had spent days thinking, how am i gonna survive? Its disheartening to have learnt the instrument for 4 years and end up realising your techniques were all screwed.
but when i see the j2s, the standard of music you guys give, the 100% hearts you guys put in, it occurs to me that i have to work hard, and i can improve.
and i will remember every part of being in this band, for the rest of the 1 year i have here, i will work hard. i know we all will!
and my admiration; due to all the J2s. every single one of you, have shown me what is putting in your heart and soul.
Siying :D
at
2:54 PM
0 comments

---
To All J1s
Hey J1s!

Mr Glz have selected the piece entitled "Selections from Westside Story" for us to perform at the upcoming concert. This is definitely not what i've expected it to be, since he didnt reply me when i asked him about it earlier this week plus i've already handed out instructions for American Riversong to be photocopied so that we can practice next week before band camp but it looks like i've got to scrap that plan. On top of that, i received the msg only after i left alumni rehearsal and that sms specifically stated that the piece can be obtained from sps library. Well it seems like i've got to make arrangements again to get those scores hahaha. And when i finally get my hands on that piece, i hope that we all can start working on it because band camp is approaching fast! Its only about 6 days to band camp man!

Anyway, this is also my first time blogging on the band's blog. There are certain things that i will want to talk about. Firstly, "my first concert" was not as bad as what we all thought it would be. Yes, there were mistakes in our playing and flaws in the organisation that day. But most importantly, that one thing we did right was to enjoy ourselves during our performance, which most of us did. I believe that despite all the mistakes we make on stage during "my first concert" we will learn and not repeat them in the future. "My first concert" also marks the beginning of our journey in this band. It will be gd for all of us to set aside any differences in the past as this is a new start. Ahead of us lies many more obstacles that we as one batch will have to overcome them together. I cannot emphasis enough that our success will have to be mainly built around teamwork and unity. So I urge all of us to be more tolerant of each other and support each other throughout our time in this band. Also, when necessary bring up any problems you may have so that we all can be there for each other and together solve those problems quickly too.
Study Hard,
Play Hard,
And Press On, Alright!

-Eric
at
1:02 AM
0 comments

---
Friday, April 25, 2008
at
8:23 PM
0 comments

---
HELP IS HERE!
THE ALMIGHT SAXOPHONE SECTION!
With all the recent talk about the seniors in the band not doing their part as seniors by helping and bonding with the juniors, i just wanna say this is not entirely true. at least not for me and my section la. to my dear section, i promise to help you guys as much as i can and do anything within my ability in order that you become better players and i will not neglect my responsibility as your senior. with that said, you have to do your part as well with regards to improving your overall standards! so, continue to press on and always aim for excellence! :D
tau.







at
8:09 PM
0 comments

---
Monday, April 21, 2008
at
11:55 PM
0 comments

---
this in unnacceptable!
time for some diversity in section photos.
`syarah
at
10:31 PM
0 comments

---
A band practice with you guys can make my day anytime! =)
at
9:26 PM
0 comments

---
Friday, April 18, 2008
dream a little dream

SAINTS THE MUZICA: ONCE UPON A TIME
18 MAY 2008
$12, VCH
7:30PM

hmmm.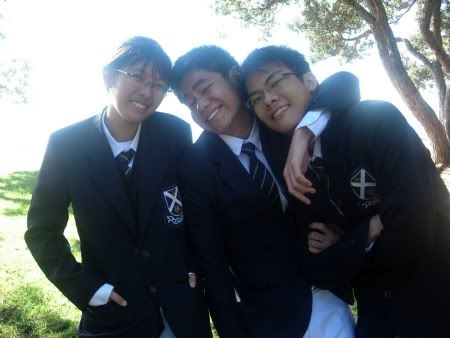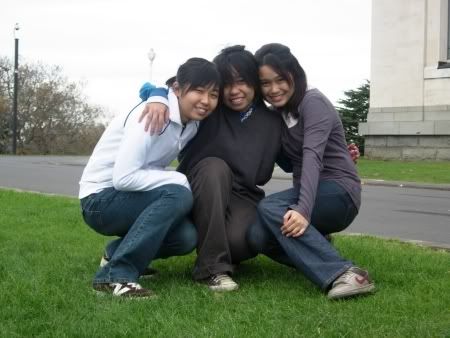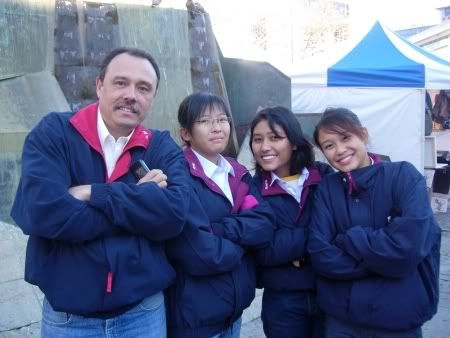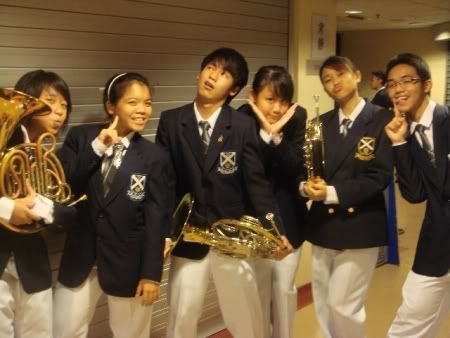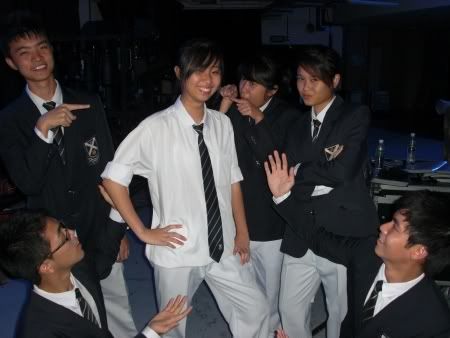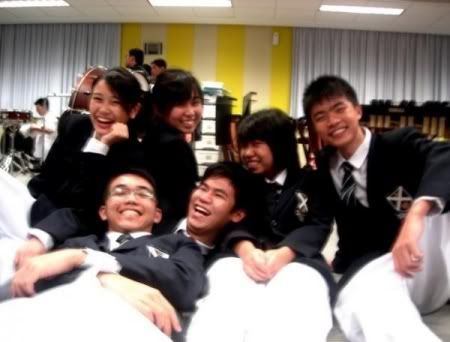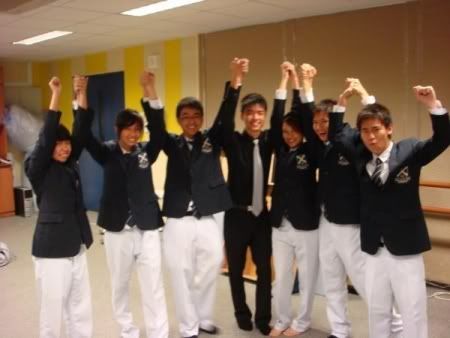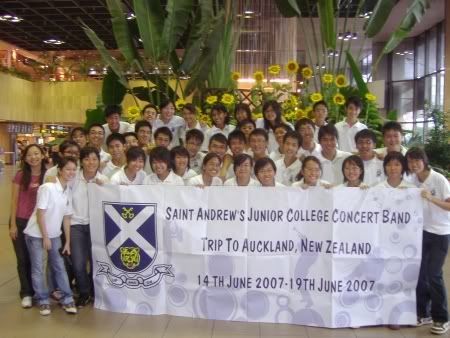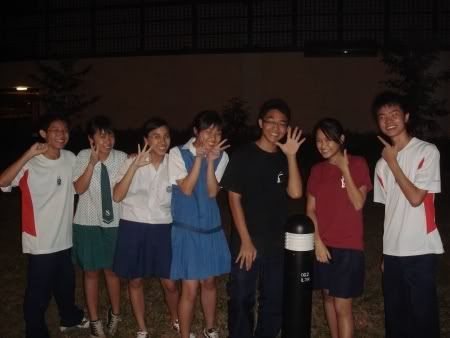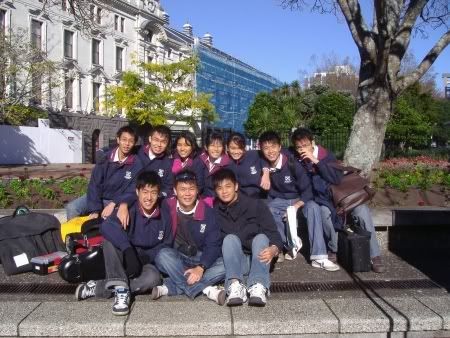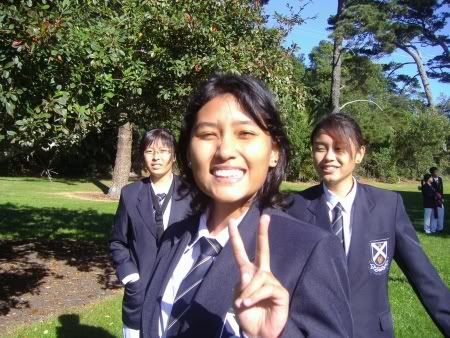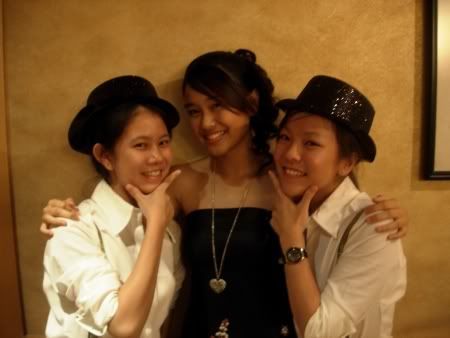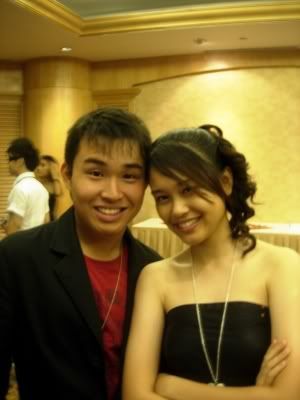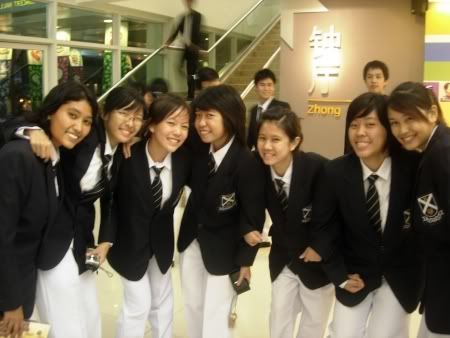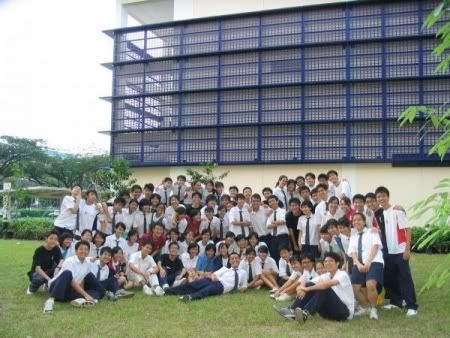 about 1 month left guys.
our batch has been nothing but a dream team.
and dreams,
they last.

<3 farah.


at
10:02 PM
0 comments

---
Sunday, April 13, 2008
Band!
Hey everyone..
This is my first time blogging EVER believe it or not. But thats not the issue so stop laughing! Idiots. OK! Im writing this because with the coming musical and the J2s stepping down after that i've begun to feel a little nostalgic and sentimental already. And to worsen things, that day when i was clearing my com, i opened this folder with all the NZ trip's details and stuff in there. It just flooded me with memories and got me thinking about how much band has meant to me over the past 6 years. And im sure it really means alot to you guys too..
So firstly, to the J2s, its all coming to an end soon and i really thank you guys for all the experiences this past year. But before we go, lets put our mark in SAJCCB's histroy! Just keep in mind the agreement we had to go all the way and keep practicing! And if you ever need inspiration, think of the whatsoever things we played that day. Everyone had freakin goosebumps la. Its like what some of you said, whatsoever things was made for our batch.. So lets play it with all the emotions in our hearts and with freakin tears in our eyes. Cause its OURS k? And when we leave this band and look back on it, we'll be able to say that that performance, that one single piece filled with our feelings and sentiments and soul, just the memory of it is enough to pull us through whatever shit we may be in. Cause we were great and we'll always be great.
And to the J1s, you'll be free of the J2s in about a month's time, free to choose your own future and to leave your very own mark. So take it from me ok? The sooner you guys throw away your reservations and really start to bond together as a batch, the better! Cause the time you have in this band is really short (only a yr+) and its best if you cherish it. Just be proactive in the band and love the band, and enjoy all your band activites, performances, your band trip and whatever else there is to the full. I'm sure you guys will do your seniors proud and be a fantastic batch.
Yup thats all I wanted to say. I never thought that i'll leave the band but i guess we all have to grow up eh? And everything i've written, is not written as a leader of the band but in the spirit of a true band member. Lets all work hard together, and give the performance of our lives!
A very sad, sentimental :( but inspired :D Gabriel
at
10:36 PM
0 comments

---
Saturday, April 12, 2008
GOOSEBUMPS!!
Hey guys!
Just want to thank y'all for reminding me of the feeling of goosbumps once again. Boy am i gonna miss practices like today once we step down...
Jeremy.
at
10:58 PM
0 comments

---
Friday, April 11, 2008
LIFE CONCERT!
hey guys!everyone's like all blogging bout band.so maybe i shall blog about something else?haha.
LIFE CONCERT 2008 (ALIVE) ROCKED!!
i mean, though the concert wasn't as good as last year's,we still danced/sang enthusiastically!!
the lightings were damn nice!!and gave the CC a wonderful cool look.hehehe.
most of us was kinda high..and think everyone screamed till we lost our voice??haha..
but it was worth it.seeing everyone singing together and praising God together was totally cool (:
but, i think not alot of bandits went right??i like only saw maybe 20 of us???hmmm..
i was wishing/expecting more people to go but,oh well..
so in the end everyone went home feeling tired and wondering how to wake up tmr morning for band..hahaha.
oh.the band is turning itself into a fitness club, running every morning 8pm before band.so those who wish to join?just tell jianhui or just come down at 8.running as a whole band sounds quite cool (:
and after all these runnings, all the bandits will become fit macho collies!!hehehe...how cool is that!!
okay.so see everyone tmr for band prac!!
toddles!
HAPPY BIRTHDAY MS HO!!!
( though it's kinda late (: )
-hong
at
11:49 PM
0 comments

---
Thursday, April 10, 2008
just felt like i had to give my input.
haha. just wanted to say that I wish all the j1 newbies all the BEST! haha. I was a newbie last year you know you know?! haha. mandy and I used to sit together practising our squeaking techniques or something. and don't need to get too disheartened over anything really. I remember when we joined main band, warm ups were just a disaster. haha! (and I only recently discovered what quavers and all those things were, to be honest :D)
I'm pleased that Mandy and I aren't the only ones who want to learn new things and experience new, er, experiences. band has been so enriching for me! I never want to give saxophone up, even though people may still think I'm some noob or something (:
press on guys! :D
[Sarah]
p.s. warm ups get easier and subsequently, pieces get easier too (:
(jeremy, is that enough of an inspirational speech for you?)
at
4:58 PM
0 comments

---
SAJC

BATCH

OF

08

PHOTOS

:D
Had a great time performing at esplanade though we didnt sound as good as we shld have. Anyhw, im lookg forward to our musical & perth trip :) band practices are tiring as compared to my sec schl band ( yeah la yeah la, we noob ), but its rly nice to hear good music & nice sound during the pracs :) so sometimes, i'll go home feelg happier then before band prac though drained :)
sajc band's teh love :D
<3 eve;
at
4:19 PM
0 comments

---