Thursday, March 27, 2008
POST - BT1
hello everyone,
i'm back again. oh well now that block test has ended, its time to get back our results. haha what can i say mann, different people, different stories. to those who did well, congrats! :) hope you guys keep up the good work and continue pushing till the big A's. to those who didnt meet their targets (unfortunately, i'm one of them), continue to put in the consistent work and we would surely reap the rewards SOMEDAY! hopefully its during A's la.
so anyway, band prac tmr! i know everyone has been really tired with sch + band, but just persevere on, knowing that all the effort we put in will not go to waste. so enjoy the romantic band prac under the stars tmr at the track! haha and lets make use of our time during band prac constructive so that we can enjoy what we do and be satisfied at the end of the day!
tau.
at
8:41 PM
0 comments

---
EOM anyone?
HEE HEEE HEEEE.
i'm in the com lab now and j1s are doing project work!
suckaaaas.
so.
band has been pretty intense for the past 3 days,
reaching home just enough for about
8 hours before leaving for school again.
reminds me of syf,
and walking across the sas bridge with our instruments in the dead of night
yet still having 293489384 minutes of debrief
and then having a daily inner conflict of
"OMG NO NEED TO GO SCHOOL TODAY PLEASEEEEEEEEEEE"
every forsaken morning.
so the point is,
what we do is tough.
if the school thinks that team sajc has it tough,
sajc concert band has it just as tough, or tougher.
so suck it all in,
stop laughing at benny's low-leveled humour jokes (seriously)
and if you need to let anything out,
let it be through your intruments.
11 more days to first rehearsal at VCH.
let it be effective.
p.s i have too much freckles.
at
12:38 PM
0 comments

---
Tuesday, March 25, 2008
Press On!
Having come back from our esplanade rehearsal today and realising how little time we have to accomplish so many things, some of us might be feeling stressed and worried about how things will turn out. However, let us not dread about the esplanade concert or musical, but rather look forward to it. Sure we got our work cut out for us, but i hope all of us can start to enjoy this process of preparation and get more bonded as a band as a result.
As we come together for rehearsals, let us ENJOY making music together as a band. Like the saying goes, "find a job you love and you'll never work again." I hope there won't be anyone 'working' in band.
Yours truly,
everyone's favourite bitchy "pastor". (:
at
11:01 PM
0 comments

---
Monday, March 24, 2008
ESPLANADE!
WHOO! tmr going esplanade. HAHAHA. coolz mannz. somehow i love esplande, its just damn cool and, just damn cool la. :) so anyway, to those who have never perform at esplanade, congrats to you that you have this chance now! since not everyone gets the opportunity to perform in such a great concert hall. so enjoy your experience and dont be suaku! HAHA. cheeers! :D
tau :D
at
9:39 PM
0 comments

---
Saturday, March 22, 2008
PROJECT X!
at
11:09 PM
0 comments

---
BAND PRAC!
Yoz everyone! well, today is the first band prac after BT 1. :D and i felt that we did well today! *cheers* i could feel the positive vibes coming for everyone and it really showed in the music today. indiana jones, post cards and beatles. i hope this positive feeling continue even as we press ahead towards our concert/musical and also the esplanade concert coming up next week. as we move on, there would surely be obstacles along the way BUT! we must work
together
for the people around us, the music and most importantly SAJC CONCERT BAND. and, i hope the revival of our blog would continue! :D CHEERS EVERYONE!
at
8:29 PM
0 comments

---
project revival!
my turn ! anyway, good to see people blogging here again. lets hope we can continue to use it! hahaha
band starts tmr, concert on 31st march and 18may. lets GOGOGOGO. ahaha. okay, like benny, i also hope everyone is on time for prac tomorrow!
at
12:06 AM
0 comments

---
Friday, March 21, 2008
"PROJECT REVIVAL"
this is another part to "project revival" of the sajc band blog. i shall not introduce myself like how farah did, but i'm benny.. or ben ni. works both ways. haha. so yes! i sure hope my batch people would start to revive this blog by blogging.. DUH-___- i think i need a project revival for my own blog too man.
tmr will be the start of the first band prac after bt1. so hope everyone will be punctual.. haha!
i suck at blogging now man. so i guess this is good enough?
lets all work towards a successful musical! :D
at
8:02 PM
0 comments

---
With Thanks!
Really appreciate Farah's efforts to revive the band blog.
I love the header, cos of the photo embraces the notion of "One Family Unbroken". Brought tears to my eyes :)
I hope this blog will really be an avenue where batches of band members can communicate and stay in touch with e band.
One Band, One Family
at
1:50 PM
0 comments

---
PR (PROJECT REVIVAL SSHHH)
wow okay.
this is farah, from the 07/08 batch!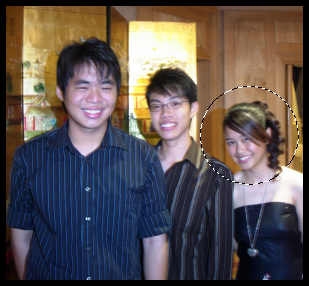 the circled one in the photo.
i'm not that small or insignificant in real-life, really.
i'm about.161cm?
hahahahaha.
and yes,
i'm terribly sorry on behalf of my batch that this blog has been more or less non-existent ever since the previous batch stepped down!
hence,
PR.
(project revival)
sshh.
so anyway!
BLOCK TEST 1 IS GONE WITH THE WIND!
relieved?
maybe just a LITTLE bit?
a teeeeeeeny tiny bit?
not really,
with the upcoming 6 more tests/exams. (msa 2, bt2, pre prelims, prelims, post prelims AND A levels) ahahaha. but yes. i really hope our batch will do well for a levels and really, live up to the standards of the previous batch.
nicole and weiqin's perfect scores?! hmmmmmm, abit hard ah.
HAHAHA.
okay band's resuming tomorrow, and of course it'll mark the beginning of a whole lot of hectic and exhaustive rehearsals with the upcoming esplanade rehearsals and ALL IMPORTANT SAINTS E MUZICA.
okay have a good friday
i'll be back soooooon. :D
p.s i hope the new blog header is fine?!
kthxbyeee.
at
1:06 PM
0 comments

---
Friday, March 07, 2008
Congratulations to Batch 2006
I'm very proud of each n eveyone of u, not only cos ur batch has produced 2 top scholars but it is also the batch with 100% pass, meaning everyone has a full cert, no "U". This is the best set of results ever witnessed in 6 yrs. Thank you all for your hard work!! I'm so happy that at least for one batch, i really witnessed everyone leaving JC with a full cert, as i had often said it should be the main goal in ur JC education. The pride i felt was even greater than u achieving SYF GOld with Honours!!
I wonder when u received ur results, did u ever think how u had actually survived the 2 yrs? I still vividly remembered the long Sat prac u had, 8-10 coaching newbies,10-1pm sectionals,2-4pm full band. Sectionals starting at 5pm on non-band days. Intensive rehearsals almost everyday as SYF approached, the evening prac on the track,late rehearsals in SAS bandroom,falling asleep in class, nothing was on ur mind except band, how badly u performed for BT1..... The list goes on. N u have survived the test, the trials n difficulties. U had overcome the greatest obstacle in ur education n will move on to gates of freedom.
U have done well not only academically, but u have,along the way, built ur character, becoming fine young men and ladies.
To my batch of 2006, your juniors are very proud of you.
For those who think you have not done well, do not despair. Face the destiny with courage and not fear. Open your hearts and minds and you will see the turn at the corner, not the dead end, for this is not the end but just the beginning of your life ahead. Explore the unknown with courage, u will not be alone. We will be there for you.
One Band One Family. One Family Unbroken
at
9:29 PM
0 comments

---
Monday, March 03, 2008
One Sound We Make,One Beat We Create
If my memory does not fail me, this blog was created by Kok Hoe's batch. I have always believed that it is the efforts of many members that results in the survival of this blog.
Browsing thru this blog,i realised that the entries had stopped with the 2007 batch. N i doubt it will continue with the 2008 batch.
As i compare the culture of the band 6 yrs ago n now, I discovered we have lost the following:
1) the passing down piece:Twins
2) our band table
3) our blog
4) our family
I still remember very vividly how the batch of 2002-2003 cried while they played Twins for their juniors. How this piece was passed down from batches to batches. I dun deny that i have an emotional attachment to this piece.
The band table. Remember how the "need to balance" come abt for the 2005 batch? Remember the cute Winnie the Pooh drawn by Jojo on the band table? How we succeed in smuggling the band table to Potong Pasir only to be asked to send it back to Malan Road? I believe we all know how much this means to us.
Our blog. A white elephant?
Our Family. No longer in existence. I was very disappointed when one current band member told me "what family? Stop lying to yourself."
Things that i had believed in, things that i hold so dear, are all gone. Sometimes i wonder what is there left for me to hold on to. Often students find me living in the past memories,n i just can't help it. Band,nowadays, is just like being with hi-bye people. They have destroyed the culture but did not create one.
Whenever i want to justify that i have made the right decision to stay on, the only thing i can turn to is the things given to me by the previous batches.
My love is still with them, but to them, it is really not worth a thing.
at
6:27 PM
0 comments

---