Tuesday, August 30, 2005
FRIDAYS.
Ok kids,
I have confirmed with PBK that we are coming down on FRIDAY to eat his TIRAMISU. Non alcohol one(s) will be made to accomodate Salahuds and The Red One.
Please confirm with me WHO is coming. If u never give me your name. No Tira. Get iT? Then U can eat the bowls and sppooons instead.
THIS IS ONLY FOR JC2s. JC1s. Next year la hor.
PPl PBK birthday is on like FRI? So do what u are supposed to do. Bring the ropes and stuff, and if u dont have ropes, bring a gift at least. THOSE WHO ARE NOT BRINGING GIFTS BUT WANNA CHIP IN TELL ME BY NOW.
haha.
BYEBYE. PLEASE BE RESPONSIBILE. REPLY.
at
9:43 PM
0 comments

---
Sunday, August 28, 2005
sajc band
Mr PBK's birthday is coming soon!
Toh
at
6:47 PM
0 comments

---
HAPPY BIRTHDAY!
HAPPY BIRTHDAY SHANE!
sweeeeeeeeet seventeen! (=
although 100% you won't see this. but still
HAPPY BIRTHDAY! . haha
and MEEERRRY CHRISTMAS TOO!
and not forgetting,
HAPPY NEW YEAR! -firecrackers-
cheers
-jacky
at
12:10 AM
0 comments

---
Friday, August 26, 2005
the reunion of the nerds and aunties at URA

at
4:35 PM
0 comments

---
Wednesday, August 24, 2005
Studies and Eating
Ok peeps,
Mr Peh has suggested that during the first week of prelims, we should organize a day where we could go down and study for one full day, at the same time, he will make some food for us to eat like he promised some of the band members.
Since teachers day is next week, I suggest we get the teachers a gift also during that day. It may be anyday but the suggested day is friday.
Discuss it in school and we will settle by this coming friday.
Study hard and good luck.
Deon
at
6:26 PM
0 comments

---
Saturday, August 20, 2005
TRIP UPDATE
okay, final price is $301, flying JetStar. 4D3N, flying off at 9+ am on thurs and touching down at 11pm on Sun. My parents have already put their names down, and i just need your full name(as in passport), IC no, and money. the longer you take to pass me money, the greater the chance that the price will go up...so HURRY PPL!!!
at
2:10 PM
0 comments

---
Friday, August 19, 2005
bday!~
first post by me!! finally got the password frm peace just now... haha...
today... 19th august 2005... our beloved joo yeow's birthday!!
HAPPY 17TH BIRTHDAY!!!!!
-jj
=]
at
10:56 PM
0 comments

---
trip trip trip!!
ANOTHER UPDATE YAY!

okaaaaaaay peeps. i've done my checking and this is the best i've got so faaar.
Dec 8 - 11. Airfare, hotel, breakfast, transfer and tax in total roughly $320 - $360.
Sorry can't get any cheaper but as its school hols budget airlines suddenly forgot the meaning of the word BUDGET. pui.
Anyway. list of people includes : deon, shan, mee, huimin, aloo, enru, dre, yf and me.
ANYONE ELSE INTERESTED IN GOING PLEASE TELL ME NOW. (those who have signed up but want to change their mind...TOOBAD.)
Well, now its your turn. I need the following from you :
1. Passport numbers <----please make sure that it is still valid and you have six months more before you need to renew

FROM DATE OF TRIP

.

2. Money. i know its kinda short notice but i'll need to start collecting next week, preferably by tues. I'll still look for better deals but i doubt you'll get it. i'll also confirm the final price ASAP.

Thats about all for now.. happy mugging (gag! barf!)



at
4:44 PM
0 comments

---
Thursday, August 18, 2005
kiddossssss
helloooo! so long never blog in here. so many weird names. hahahaha. anyway, happie studying for my kiddos in j2. smiles. esp huimin. muahahahaha.


love, yingwen

at
9:12 PM
0 comments

---
Wednesday, August 17, 2005
Chocolat
Ok peeps,
this is the confirmed list of band members going together for that night. We managed to get 11 people to one table. Phew.
Jie
Huishan
Amy
Val
Sala
Jeslyn
En Ru
Deon
May
Yaofeng
Marcus
Thanks to Jason, Huimin, Kok and Stuart for deciding to join their classes last minute to give the others spaces. Love ya.
Deon.
at
6:15 PM
0 comments

---
Sunday, August 14, 2005
sajc band
this is my first blog. =)
i finally got the pw and username frm our dear jacky. =)
thanks man.
and he gave me the permission to slap him twice.
okay,i shant say why.
i'll only embarrass myself. lols.
alrytes.im so proud of myself. i did my gp hw today. hees.
math test tmr. =( heh hehs.
alrytes. work hard everyone. and prac hard. =)
.now jacky gave me the permission to slap him four times. =)
im so excited for it. =)
anyway, would like to thank everyone for band dinner la. hees. =)
geraldineee. =)
at
10:14 PM
1 comments

---
just bored.
okay im just bored. so blog for fun.
jbf in 6days! cool.
hope evreything goes on well.
sectionals tomorrow will be great.
so will band pract on wed and fri.
i love tomorrow.
econs test. maths test. gp presentation. phy spa.
okay goodbye!
-jacky
at
10:03 PM
0 comments

---
Happy birthday AMY.
Hap...py.... Birthday.. To Euuu.. Harppi.. Burfdae.. t... eww.... Happy...BIRTHDAY! to...Ahmee... Hap...
!!boom~
(*Falls under the table.)
at
6:06 PM
0 comments

---
everything is missed.
basket... so damn sian with studyin man. maths econx physics maths econx physics maths econs physics. arghh...
i miss band. my trombone misses me.
ok back to studying. sianz. all the best j1s. =)
at
2:01 PM
0 comments

---
concert
those going for st pats concert later
sms me or something
so we can meet up first before going.
study hard everyone!
-jacky
at
11:00 AM
0 comments

---
Saturday, August 13, 2005
helloooo!
lets mug everyone!
must get our aims(or our parent's) of As Bs Cs or Ds! yes yes!
study hard so we dont have to retain

(ayes no offence k)
time to work hard for jbf too! must show our juniors that we can be a group of people for them to look up to!
yesyes what am i doing online. lol. okays off to mug SOON! =)
*beams*
-xiuz.
at
10:11 PM
0 comments

---
Thursday, August 11, 2005
Julius is BOREDD..
alright.. so im bored. but i was thinkin of the BHAN CEE CEE thing (ive still not gotten over it yet). imagine if we permutate it.... WOW!!
MAY CHAN BEE BEE
YAM BHAN CEE CEE
MAY CEE BHAN CEE
YAM CEE CEE BHAN
BHAN CEE YAM CEE
MAY CEE CEE BHAN
CEE MAY BHAN CEE
etc....
so cool!!
but tho im bored... i got lotsa work to do... like my PW that is dued tml!! urhg..!! (JULIUS WHAT ARE YOU DOING ONLINE!!)
at
8:47 PM
0 comments

---
Wednesday, August 10, 2005
my first post! yay
ooh so suaku sounding. haha
yes and now to officially thank people for the band dinner.
eef and susan
for the quality control and the hard work and effort you guys put in
mad and janice
for the oh-so-wonderful banner =) so sorry i made a big mess out of it and caused all of us to have a hard time.
mad esp for doing the lovely photo frames and B E A Utiful guestbook! and who could forget the cool invites!
mal and andrew
even though i wasnt part of the dance team, it was so touching to see the hard work you guys put in. thanks for your late nights and loss of sleep to make out the dance steps and simplify them so much
serene and moses
for your effort that brought so much joy and life to the band dinner itself
lilian jojo and jeremy
for the numerous times you guys had to stay in the band room freezing away doing the lovely door gifts. and yes jojo your mum's ones were gorgeous! =) lilian: thanks for printing the cool fonts for the invites too! jeremy, for the embarassing stunt during the first dance practise! luckily no bloopers were shown for the dinner itself. i prolly would have died thank you :)
jacky and yiting and basically everyone who rushed the door gifts
for rushing them in class during GP and maths tutorials ;) haha. during breaks and any free time you all had.
and most important of all, the games com: addi tommy julius yiting marie janice and geraldine
for being so cooperative and nice and helpful and everything. for the help, the time spent, the effort put in. thank you so so much =)
*beams*
-xiuz.
at
12:21 AM
0 comments

---
lalala.. hapi national dae!! =)
oppz.. national dae is over.. .. hmmz.. forget it..
marie
at
12:20 AM
0 comments

---
quote of the day.
"suo you de xing ku dou shi zhi de de! ying wei wo men ai xing jia po!"
by melvin loh hanxiang on channel u news
no economic recession
no racial riots
no war
we all love singapore!
okay to a certain extent only. (:
jacky
at
12:02 AM
0 comments

---
Tuesday, August 09, 2005
Happy birthday Singapore!
haha hi people! i had the biggest shock of my life when i woke up today.. and its just by looking at the clock! hahha i woke up at 4pm! ooh my goodness! hahha. then i felt very sad cause no one asked me out.making me so so lonely at home now.aye. maybe cos today is national day thats y every/most are at home slacking.i hope so. okay. and please... when anyone one going out invite me okay? pls pls pls pls.
Julius
at
4:19 PM
0 comments

---
Sunday, August 07, 2005
Percussion section 2004/2005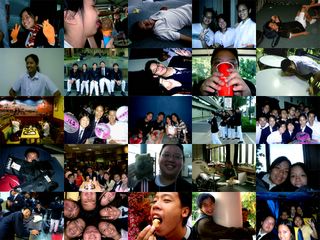 at
1:22 AM
0 comments

---
Euphonium and Tuba section 2004/2005

at
1:22 AM
0 comments

---
Trombone section 2004/2005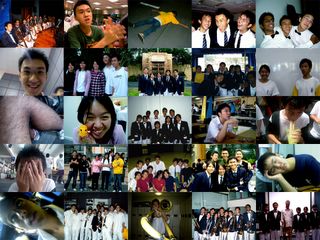 at
1:22 AM
0 comments

---
Cornet section 2004/2005

at
1:21 AM
0 comments

---
Horn section 2004/2005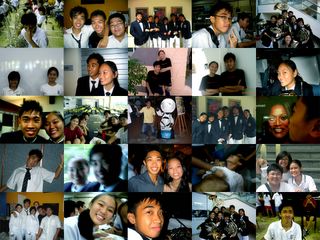 at
1:21 AM
0 comments

---
Saxophone section 2004/2005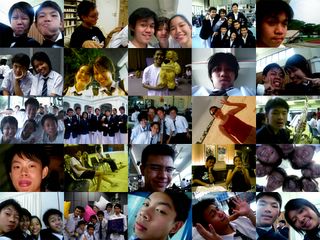 at
1:21 AM
0 comments

---
Clarinet section 2004/2005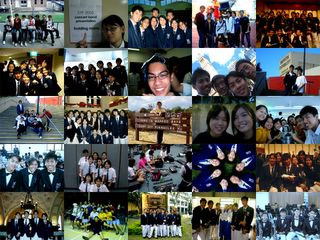 at
1:20 AM
0 comments

---
Double Reeds and Flute section 2004/2005

at
1:20 AM
0 comments

---
Saturday, August 06, 2005
SAJCBand does it again!
SAJCBAND BLEW ME AWAY YET AGAIN!
jus wanna say im so damn bloody proud of the band. band dinner 2005, simply the best. thanks for the unforgettable night of pure joy and laughter, hugs and great memories. thank you J1s. thank you very much.
at
2:38 PM
0 comments

---
Friday, August 05, 2005
oopos
i forgot to sign off! and yes sajc band has made my jc life so exciting!! woohoo.. despite my f* up results for CT1 OOFF.. hahaha!! yes! i love sajc band!!
julius
at
1:36 PM
0 comments

---
time to say goodbye.
hey peeps.writing my very first on sajc band blog. haha. pon school la.haha. alright. i just had the nostalgic feels when reading the blogs by addi, kumar and may. well. i can really imagine the band without you seniors anymore.. no more kok hoe beside laughin our asses off at the lamest shit. no more bhan cee cee. melvyn helping me send my bone for repair twice in less than a week. huimin aloo and enru weird comments on me. blablabla. but hey thats how it is la. i never had such a fantastic band experience before. sasmb to me was fun but sajcband beat it flat. when i first got into the band room in nov '04. obviously i was shy and didnt dare do much crap. but the thing is. the very first step i took into the band room i could feel myself at home already. sigh. i think im simply beating bout the bysh yep? cause im not very good with my words but i hope you seniors understand where im drivin at. haha. sajc band is just unique. and i seriiously guess its time to say goobye to the j2s..
at
1:24 PM
0 comments

---
Tuesday, August 02, 2005
THAI TRIP
SAWADEE KRAP PEOPLE!!


Just an update on the Thai trip so far:
Projected date is EITHER from

8 - 11 Dec

OR

15 - 18 Dec

depending on Jie... (tH@nks w0rzx)
so for now just try to keep these dates free
it will be from

Thurs to Sun

so that we'll have a few days for free and easy R & R before we head off for CTC market to shop till we're broke. (thai massage anyone??)
At present, my parents are trying to fix their schedule so that they can accompany us for the flight there and back, but its not confirmed for them..so for those who need parental consent (bhan cee cee!) don't say anything about that first or lie? =X just kidding..
anyway, please please do update whether you are going.
the people who have messaged me so far are:

tohster, huimin, aloo, ru-ster, she-who-thinks-she's-cute, and amy.



at
10:34 PM
0 comments

---